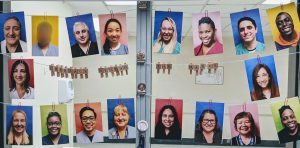 The LA Surge Hospital Pharmacy Department is officially closed. Refrigerators have been unplugged and pharmacy keys have been turned in. The Discontinuance of Business form has been sent to the Board of Pharmacy. I made my final drive from LA back home to San Diego. Good timing as traffic between the two cities is starting to pick up, and instead of a straight shot home as has been the case for the last two months, Google Maps had me rerouting to avoid the worst of the traffic.
Some observations from my time at LASH. First, we loved our nurses and they provided great care. They came from all over and were excited to be part of the team and yet we still saw the same types of process issues we see in other hospitals. I don't know why, but I figured some of those would not exist because we had a smaller team and census, but they did! Medications were not transferred with patients as they moved to another unit. Medications were taken out on override rather than wait the 1-3 minutes for the pharmacist to verify. Meds could not be found without the help of the pharmacy tech pointing directly at it. And, we would get calls asking for a new drip because theirs would be dry in 10 minutes! I suspect if we asked the nurses for their observations they would say that there were delays in med deliveries too! Perhaps we can find comfort in the fact that hospitals everywhere have some consistency.
Some thoughts on the leadership team. I'm guessing various people from Kaiser, Dignity and perhaps the State of California reached out to contacts to assemble the leadership team so the credit does not go to any one person. The resulting team was fantastic. We've probably all worked places where one or more people in leadership didn't perform at a high level which left us wondering how they got their position. That was not the case at LASH. This was truly a fantastic team. Their attitudes were positive and supportive. They knew what they were doing within their field and in many cases had a comprehensive knowledge of several areas within the facility. The physicians were team players and always open to suggestions. It was really quite something to see a team that was meeting each other for the first time work together so well.
Some thoughts on pharmacy items specifically. The looming threat of drug shortages and high usage of certain meds in the COVID-19 patient population resulted in us over ordering. Don't fret, the meds will be used by other hospitals, but it was a bit crazy to see what we had left at closing time. Just because staff states compounding experience on their resume, it does not guarantee competence. At a previous hospital, I started having potential applicants demonstrate their technique as part of the interview, so I should have known better. Because I made sure there were multiple years of IV room experience on the resumes, I guess I let my guard down on that one! Once fully staffed with pharmacists, it paved the way for them to attend rounds which lasted hours. They lasted anywhere from 2-5 hours because the physicians leading them could be different daily and each time the physician needed to get up to speed. I felt it important the pharmacists participate because the more we understood about these patients the more prepared we would be and the physicians really appreciated the pharmacist's input. Also, a capable pharmacist flourishes when they are allowed to participate in rounding, codes, and decisions surrounding protocol development and workflow. This certainly proved true for the LASH team.
This was a wonderful experience and a memory the entire LASH team will cherish for years to come. Thank you for reading my weekly blogs and being a part of this journey!
Everything that has a beginning has an ending. Make your peace with that and all will be well.- – Jack Kornfield