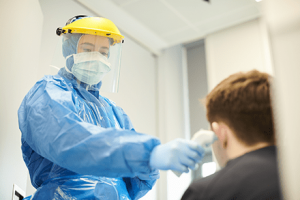 Hello from Los Angeles where I am privileged to be part of the team opening and manning the LA Surge Hospital, a COVID only hospital. I have been on-site at the hospital for the last 10 days working with a team of fantastic people who are pulling together to make this happen. Resources from Dignity Health and Kaiser coming together to do what needs to be done. The basic hospital infrastructure is there which is fantastic. However, the amount of work going into getting it ready for patient care is at times overwhelming, but this team continues to impress me with their vision, relentlessness, and support for each other. Open dialog is an everyday occurrence, and while the show must go on, it won't go live until all departments are confident we can provide the care needed.
We have the PPE we need and we have the support we need. I am meeting some wonderful people and learning a lot about operations. The pharmacy is up and running with a ton of support from a neighboring hospital and their staff. I hope to post a new blog each week, but if I don't it is because we are busy providing excellent patient care and focused on meeting the hospital's needs.
I will end with a quote by C. JoyBell C., which our CMO presented at yesterday's morning leadership huddle and it really spoke to me.
"There are two things we should always be 1. Raw and 2. Ready. When you are raw, you are always ready and when you are ready you usually realize that you are raw. Waiting for perfection is not an answer, one cannot say 'I will be ready when I am perfect'because then you will never be ready, rather one must say 'I am raw and I am ready just like this right now, how and who I am.'"
The LA Surge hospital is ready and we are raw – tired and exhausted but energized and excited to serve. Proud to be part of this incredible team.