As mentioned in last week's webinar sponsored by Protenus on How to Start a Drug Diversion Program From the Ground Up, one reason for implementing a comprehensive drug diversion program is to increase the chances of identifying drug diversion sooner rather than later. In doing this, we hope to identify the addicted healthcare worker in the early stages of addiction. As with other chronic diseases, the earlier treatment is offered in the disease process, the greater the likelihood of positive outcomes.
If a facility does not have a program to proactively identify an addicted healthcare worker, they are doing a disservice to the addicted individual as well as patients. Along those same lines, if a facility has a program but does not follow through on reporting the individual, they are doing a disservice to the individual as well as patients in the next hospital where this individual goes to work. Each facility must do their part.
Teach leadership and staff how to recognize the signs of addiction. Here is a link to the below image so you can actually read it!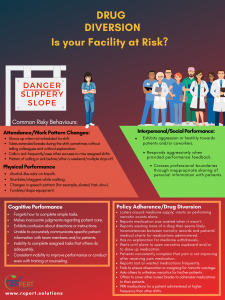 I am one of the lucky ones. Let's work harder, look closer, and do everything we can not to enable and in doing so, disable, our loved ones who are ill. –Jamie Lee Curtis